Handset Press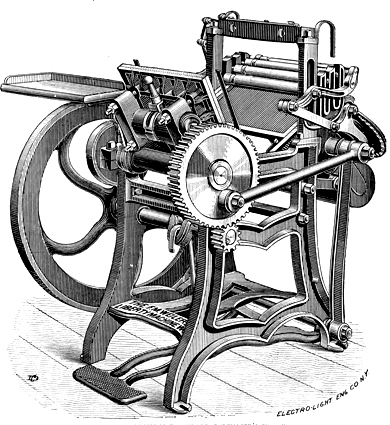 The Liberty Platen Press
An experienced letterpress printer may feel an odd sense of disorientation when looking at a Liberty platen press. All the familiar pieces seem to be there, but they don't go together like a C & P or Pearl. The ink disk feeds ink to the rollers, but the rollers don't travel very far -- the disk slides underneath them. The platen and bed both move, meeting in the center of the press.

The Liberty was popular in the United States and Europe during the second half of the nineteenth century, but eventually lost out to the Gordon style platen presses. Most of the presses in the US were scrapped, and today only a few remain. Chapter 1 of Ralph W. Polk's Elementary Platen Presswork includes a brief description of the Liberty:

Degener's Liberty Press. An interesting job press, called the Liberty, was invented by F. O. Degener, of New York, in 1860. The bottom edges of the platen and bed were hinged together, and they raised and opened out into a horizontal position to receive the sheet, the bed passing under the ink rollers on the way up. The platen and bed then closed for the impression with a hinge-like motion, again inking the form on its downward sweep, and causing the ink disc to pass under the rollers. This was a popular press for a short time because of its power and speed but best results were not possible because of its clam-shell action. It was also called the Noiseless Jobber.
The Full Story
Erik Desmyter and Bob Oldham wrote a 22-page article,"The Libery Press: a platen job press invented by Frederick Otto Degener," giving the complete history of the Liberty Press, for the Journal of the Printing Historical Society, New Series number 10, spring 2007. Copies of the issue can be ordered from the Printing Historical Society in London, United Kingdom.
New Information?
If you have new information about Liberty platen presses, please contact me.
---
Surviving Liberty Presses
Take a look at a table listing known Liberty presses, including location, press size, and serial number.

You can also read detailed reports on the following:
How to identify Liberty presses
If you come across a Liberty platen press, there are several key characteristics to look at to determine its date of manufacture. Here's a page on how to identify a Liberty press.
---
Serial Numbers and Year of Manufacture
In their article, Erik and Bob point out that a number of Liberty press advertisements include the wording "more than n in use," where n is a number that kept changing. By noting the publication dates of these ads, we can get a rough correlation between a press's serial numbers and its year of manufacture.
| Year | Number In Use |
| --- | --- |
| 1875 | 6,000 |
| 1880 | 8,000 |
| 1883 | 8,400 |
| 1886 | 10,000 |
| 1891 | 11,000 |
| 1899 | 13,000 |
| 1903 | 15,000 |
| 1909 | 16,000 |
It appears that 250 to 400 presses were produced each year, starting in 1860. Before 1886, the average rate was 385; afterward it was 273.
---
Document Scans
Parts Diagrams
Steve Saxe provided scans of Liberty Press parts. He writes, "The Liberty press parts diagrams are on two sides of a single sheet. The sheet was too large for my scanner platen, so I had to stitch two scans for each side. The sheet is very old and stained, but readable. It came to me via Martin Speckter from Damon & Peets, which was still in lower Manhattan in the 1970s."

One diagram, titled Parts of "Liberty" Press, shows 82 parts (numbered between 1 and 210).

The second, titled New Parts of the Liberty Press, shows 46 parts (numbered between 300 and 359) with names of most in both English and German.
---

Liberty Patents
F. O. Degener received three patents related to the Liberty platen press, dated Apr 24, 1860, Dec 13, 1870, and May 28, 1872. He received an extention for the original patent on April 24, 1874. These patent and extension dates were included in the shield surrounding the serial number on most presses manufactured from about 1875 until about 1890.

Between 1886 and 1889, Frederick Van Wyck received three additional Liberty-related patents. After these improvements, the press was marketed as the "New Style Noiseless" Liberty press.

PDF files containing images of these six patents have been downloaded from the official United States Patent and Trademark Office website.
| Number | Date | Issued to | Title | PDF file |
| --- | --- | --- | --- | --- |
| 27,973 | Apr 24, 1860 | F. O. Degener | Improvement in Printing-Press | 4 pages |
| 110,018 | Dec 13, 1870 | Fred Otto Degener | Improvement in Inking Apparatus for Printing-Press | 2 pages |
| 127,316 | May 28, 1872 | Frederick Otto Degener | Improvement in Printing Presses | 3 pages |
| 348,302 | Aug 31, 1886 | Frederick Van Wyck | Throw-Off Mechanism for Oscillating Printing-Machines | 3 pages |
| 368,258 | Aug 16, 1887 | Frederick Van Wyck | Gripper Mechanism for Job-Printing Presses | 2 pages |
| 410,302 | Sep 3, 1889 | Frederick Van Wyck | Printing-Press | 3 pages |
The Liberty press with serial number 10266 is the only one found (so far) with a plaque that lists the following nine patent dates: Nov 19, 1885; Febr 23, 1886; Aug 31, 1886; Oct 16, 1886; Oct 30, 1886, Nov 4, 1886; Nov 10 1886; March 3, 1887; Aug 16, 1887. Patents have been found for only the first and last of these dates. Most of the other dates in the list are invalid for U.S. patents as they do not fall on a Tuesday.
---
A Dutch Textbook
John Cornelisse, who lives in The Netherlands, provided scans from a Dutch book used in graphics schools. It contains technical drawings of all kinds of presses. The publication information for the book is:

VOLCKE, J.A.: Boekdrukmachines. Amsterdam, De Arbeiderspers, 1946. Gebonden. 110 p. Ills. Voor de Stichting Graphilec.

Click to see a full-sized version of the press closed or the press open.

press closed
press open
| | |
| --- | --- |
| In the same textbook, John found a reference to another manufacturer in Europe who made Liberty presses. John translates the text on the picture as "Liberty-platen made by machine-factory, Joseph Anger and Sons, Vienna, Austria." | |
---
Liberty Advertisements and Articles
You can view Liberty-related pages scanned from magazines, including
Scans from English language magazines and catalogs covering 1874 - 1890.
Western European advertisements for Liberty (or Liberty-like) presses scanned by Herwig Kempenaers, a Liberty press owner in Belgium.
Articles and ads from Hungarian magazines provided by Julianna Füzesné Hudák of the Kner Museum.
While looking through early volumes of The Inland Printer, I found some items related to the Liberty. Highlights:
The manufacturer's name changed from "F. M. Weiler's Liberty Machine Works" to "Liberty Machine Works" around May 1886. They moved from 51 Beckman to 54 Frankfort Street. They were "successors to Degener & Weiler."
In 1888 they touted advanced features of their redesigned "Noiseless" press. It got rid of six specific problems related to the "old Degener" press.
Pictures in ads in 1886 and 1887 show the delivery board on the left side of the press. Beginning in 1888 the delivery board is back behind the platen (with a big cut-out for the throw-off) and the feed board is shown as attaching on the right.
You can read detailed results of my search.
---
Letterpress E-Mail Discussion List
One of the best sources for Liberty press information is the Letterpress E-Mail Discussion List (LetPress). Participants have described their own presses, talked about Liberty presses they've seen, and shared excerpts from books they've read. You can find the messages by searching the Archives Page for the words Liberty press. To receive LetPress messages or search the archives, you must join the list.

Here of my favorites, with links directly into the archives so you can follow the entire thread of related messages. (Because the messages appear exactly as they were written, and cannot be updated, they may contain information or links that have gone out of date.)
---
Liberty Sightings on the Internet
Here are links to Liberty Press information found on other Web sites:
---