Handset Press
Liberty Press at Mystic Seaport Museum in Mystic, Connecticut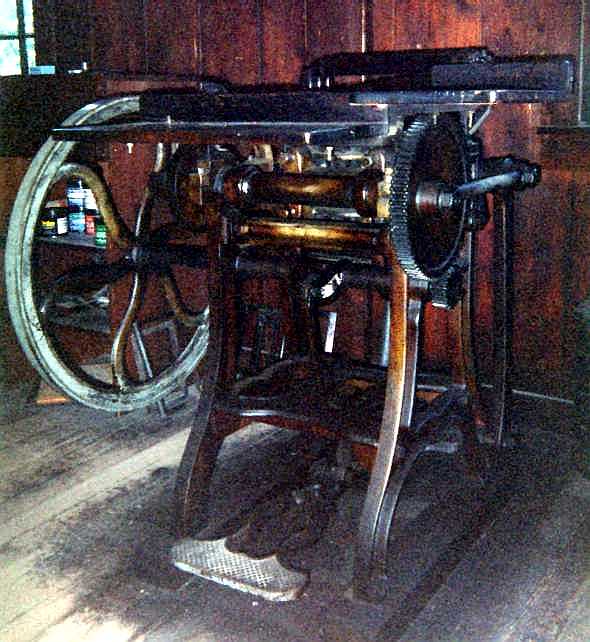 The Mystic Seaport Museum is an "authentic 19th century seafaring village comprised of more than 30 old New England trade shops and businesses" at Mystic, Connecticut. One of those businesses is the Mystic Press Printing Office, which has a Liberty press on display, nestled between two iron handpresses.

Pictures on this page were provided by San Jose Printers' Guild chairman Jim Gard, who took them in 1998. He wasn't able to measure the chase, but noted the press was significantly smaller than the 10x15 in San Jose.

This Liberty press shows the 1874 patent extension, so it was manufactured that year or later. The manufacturer name, "Degener & Weiler", indicates it was built before Weiler bought out the business in 1877. The cities listed are New York and London. (There is no evidence that Degener & Weiler manufactured presses in London, although Weiler later opened a plant in Berlin.)

The serial number indicates a manufacturing date between 1875 and 1877, which matches with the patent and manufacturer name evidence.
---
Press Identification Summary
Owner:
Mystic Seaport Museum
Location:
Mystic, Connecticut
Manufacturer:
Degener & Weiler
New York & London
Model:
Probably No. 2 or 2A
Serial Number:
6293
Estimated Mfg. Date:
1875 - 1877
Patents:
April 24, 1860, Extd April 23, 1874;
Dec 13, 1870; May 28, 1872
Throw-Off?
No
---
Back to the main Liberty Platen Press page
---