Handset Press
Golding Printing Presses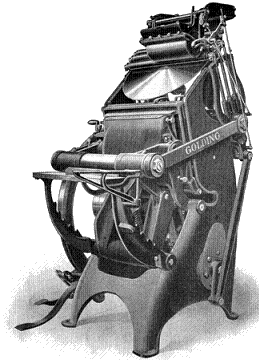 The company and its presses
In 1869, William Golding (1845 - 1916) began manufacturing printing equipment in Boston. Eventually, Golding's company produced three lines of printing presses:
The Jobber, a full-sized family of professional presses, with chase size ranging from 8 x 12 inches to 15 x 21. The Art Jobber series includes a more advanced inking system and is a heavier press compared to the regular series.

The Pearl, a smaller foot-treadle press manufactured in sizes from 5 x 8 inches to 9 x 14.

The Official, a hand-operated table-top model whose chase size ranges from 2 x 3 inches to 10 x 15.
In 1918 American Type Founders bought the company and continued production of all three lines until 1927. At that time, Thomson National Company (manufacturers of Colt's Armory Press) acquired the factory and inventory.

Here is a summary of the main models of Golding presses:
Golding Jobber
Model
Chase Size
No. 6
8 x 12
No. 7
10 x 15
No. 8
12 x 18
No. 9
15 x 21
ART JOBBER SERIES
No. 18
12 x 18
No. 21
15 x 21

Pearl
Model
Chase Size
No. 1
5 x 8
No. 3
7 x 11
No. 5
9 x 14
IMPROVED PEARL
No. 8
5 x 8
No. 11
7 x 11
No. 14
9 x 14

Official Press
Model
Chase Size
Junior
2 x 3
No. 1
3 x 4½
No. 2
4 x 6
No. 3
5 x 7½
No. 4
6 x 9
No. 6
8¼ x 12½
No. 7
10 x 15
STATIONARY PLATEN
No. 9
6 x 9
No. 12
8¼ x 12½
---
The 1908 catalog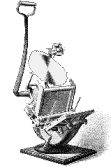 After purchasing a 1908 Golding catalog, I retyped the text from press-related pages and scanned relevant diagrams and pictures. The result is a 28 page reproduction taken from the original 85 pages.

You can view or download a 4 Mbyte PDF file containing the facsimile edition. You may need to right-click the link and save the file ("Save Target As..." menu item) in order to copy it to your system.

Note: PDF (Portable Document Format) files are ready for display or printing using the freely available Adobe Reader.
---
ATF and BB&S Catalogs
Golding presses are listed in the American Type Founders 1923 catalog, and a nearly identical listing appears in the Barnhart Brothers & Spindler Catalog 25. Click on a page's thumbnail to see its full-sized scan.
| | | |
| --- | --- | --- |
| Art Jobber | Jobber and Official | Improved Pearl |
| | | |
---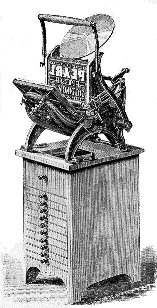 Steve Saxe
Steve Saxe (1930-2019) collected a lot of information about Golding presses over the years, and freely shared it with anyone who was interested. Here are some examples:
A Brief History of Golding & Co.
In 1981, Steve wrote an article recounting the story of Golding for issue number 6 of the American Printing History Association's journal Printing History . You can access the APHA's Web site for a 1.74 MB PDF file containing a scan of this eight page article.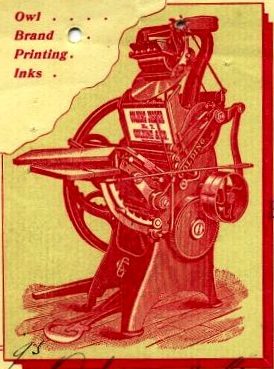 Manufacture Date
The serial number of all Golding presses is in the top center of the bed of the press, just under the rim of the ink disk. It may require some kerosene and steel wool and a flashlight to make it visible, but it's there. Steve made available the Golding Factory Log Book, which shows the dates of manufacture for presses based on their model (e.g. "Official # 6" or "Pearl # 3") and serial number.
Pictures
Steve put a number of Golding-related pictures in his Flickr album
Parts Lists
Steve scanned some Golding press parts diagrams. Click on the thumbnail to go to the full sized version.
Golding Jobber
Official
Diagram
Parts List
Combined
Original Pearl
Improved Pearl
Diagram
Parts List
Diagram
Parts List
---
Related Web links
---